Playing VCE Exams Is Easy:
VCE Exam Simulators by Avanset
VCE Exam Simulator BASIC
Easily open VCE files play VCE practice exams benefit from realistic exam simulation.
VCE Exam Simulator PRO
Creating and editing VCE exams is easier than you think!
Get Started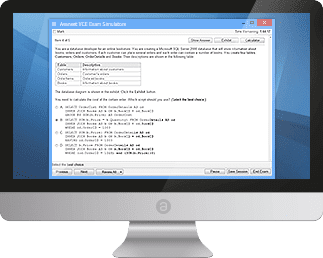 VCE Exam Simulation
for Mac
Study for your IT exams by playing VCE files on your Mac. Explore the smooth interactive exam experience
Learn more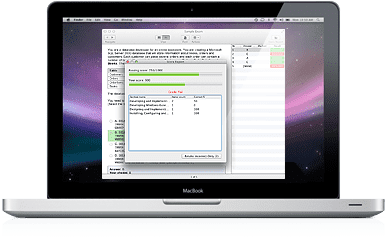 VCE Exam Simulation
for Mobile
Go mobile with your studies: play VCE exams anywhere
on your iOS and Android devices.
Learn more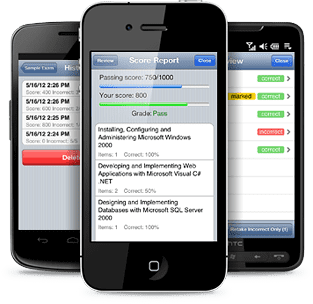 VCE Exam Simulators
Software that enables working with VCE files and their multiple features

VCE Player for Mac
VCE software for Mac OS

VCE Mobile
VCE Software mobile versions are available for Android and iOS - tablets and smartphones
VCE Download: VCE Files, VCE Software and VCE Testing system
What is VCE?
VCE file format makes it possible to save information as interactive tests. VCE Test Engine and VCE software are popular learning tools, widely used by students from different areasand backgrounds. VCE files can be created and viewed with VCE software, developed and marketed by Avanset.
Here's a sample question from a VCE Cisco CCNA exam: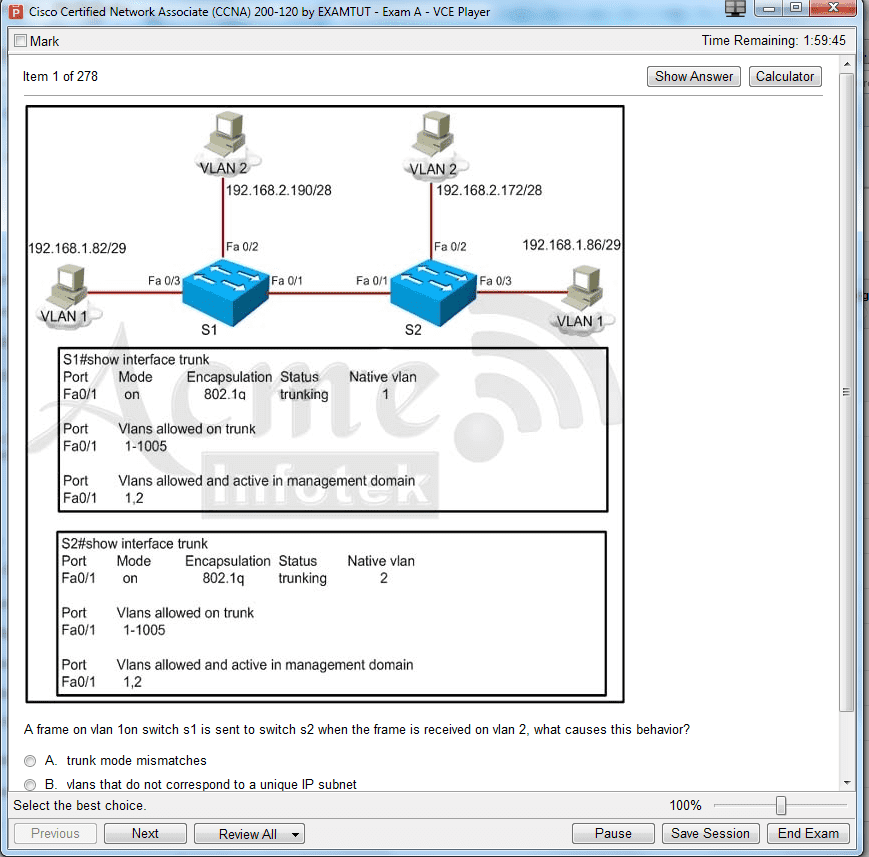 VCE Testing Engine and VCE solutions are widely used in a variety of fields, including IT, HR, visual arts and design, high schools, colleges and grad schools, as well as postgraduate education. VCE software is also widely used for learning and teaching foreign languages. Click here to find out how you can use VCE software.
VCE Test Engine Features Include:
Support of foreign characters. The latest version of the VCE Software supports non-English characters, so it can be used by non-English speakers, as well as by language learners to test their foreign language skills. From Spanish to Chinese, VCE enables the support of foreign characters.
Various platforms. VCE software is available for Windows, Mac OS, as well as Android and iOS phones and tablets.
Various question types to suit your needs / specific exam/ practice approach, including: multiple choice questions, fill in the blank questions, select and place / drag-n-drop questions, point and shoot questions (picking a point on the image), hot area questions (picking an area out of the few options given), create a tree questions, build list and reorder, drop and connect questions.
Print option - you can either print out the entire exam, or select the parts you need printed.
Importing questions from various file formats, including txt, rtf, PDF (PDF file conversion can be done with Exam Formatter, a free tool that allows for an easy file conversion. A tutorial on how to convert PDF into VCE files, which also includes some other tips and tricks, is available here).
Embedding images. The option to embed images in jpg, gif and png formats.
Maximized convenience. The VCE software gives the option of saving the current testing session and coming back to it later. You can also save and review the testing history, go back to the questions that hadn't been answered right and more.
Versatility. The VCE software can be useful to anyone and everyone in need to test their knowledge and skills through an interactive exam platform - from middle school students and their parents to language learners to seasoned IT professionals.
Browse This Website To Learn More About VCE Exams
Free VCE Files
| Name | Exam | Posted |
| --- | --- | --- |
| Microsoft.AZ-500.Realtests.v2023-11-12.159q.vce | AZ-500 | Nov 12, 2023 |
| Microsoft.SC-900.Examsnap.v2023-11-11.44q.vce | SC-900 | Nov 11, 2023 |
| HP.HPE6-A82.Real-exams.v2023-07-17.28q.vce | HPE6-A82 | Jul 17, 2023 |
| Microsoft.AI-900.Prep4sure.v2023-07-12.61q.vce | AI-900 | Jul 12, 2023 |
| HP.HPE6-A72.Examsnap.v2023-06-14.51q.vce | HPE6-A72 | Jun 14, 2023 |
| Dell.DES-6322.Passit4sure.v2023-05-28.25q.vce | DES-6322 | May 28, 2023 |
| SAP.P-C4HCD-1905.Testkings.v2023-05-20.36q.vce | P_C4HCD_1905 | May 20, 2023 |
| Salesforce.Certified-Platform-App-Builder.Examscollection.v2023-05-07.257q.vce | Certified Platform App Builder | May 07, 2023 |
| IBM.C1000-018.Braindumps.v2023-05-05.26q.vce | C1000-018 | May 05, 2023 |
| Microsoft.PL-100.Prep4sure.v2023-03-23.78q.vce | PL-100 | Mar 23, 2023 |
| Amazon.AWS-Certified-Data-Analytics-Specialty.Certbolt.v2023-03-22.68q.vce | AWS Certified Data Analytics - Specialty | Mar 22, 2023 |
| Citrix.1Y0-312.Selftesttraining.v2023-03-15.67q.vce | 1Y0-312 | Mar 15, 2023 |
| Microsoft.MB-330.Pass4sure.v2023-01-12.110q.vce | MB-330 | Jan 12, 2023 |
| Python Institute.PCAP.Test-inside.v2023-01-12.43q.vce | PCAP | Jan 12, 2023 |
| Checkpoint.156-585.Braindumps.v2023-01-11.32q.vce | 156-585 | Jan 11, 2023 |
| CompTIA.220-1002.Pass4sure.v2023-01-11.248q.vce | 220-1002 | Jan 11, 2023 |
| Microsoft.AZ-900.Testking.v2023-01-11.145q.vce | AZ-900 | Jan 11, 2023 |
| SAP.C-SECAUTH-20.Examsnap.v2023-01-11.34q.vce | C_SECAUTH_20 | Jan 11, 2023 |
| PMI.PMI-PBA.Braindumps.v2023-01-11.104q.vce | PMI-PBA | Jan 11, 2023 |
| Google.Associate-Cloud-Engineer.Test-king.v2023-01-10.106q.vce | Associate Cloud Engineer | Jan 10, 2023 |
| | | |
| --- | --- | --- |
| Microsoft.MB-210.Certkey.v2023-01-10.104q.vce | MB-210 | Jan 10, 2023 |
| Microsoft.MD-101.Test4prep.v2023-01-10.143q.vce | MD-101 | Jan 10, 2023 |
| CompTIA.N10-008.Train4sure.v2023-01-10.39q.vce | N10-008 | Jan 10, 2023 |
| Microsoft.PL-900.Test-king.v2023-01-10.86q.vce | PL-900 | Jan 10, 2023 |
| PRINCE2.PRINCE2-Agile-Foundation.Real-exams.v2023-01-10.21q.vce | PRINCE2 Agile Foundation | Jan 10, 2023 |
| Dell.DES-DD33.Pass4sure.v2023-01-09.23q.vce | DES-DD33 | Jan 09, 2023 |
| Juniper.JN0-211.Certbolt.v2023-01-09.28q.vce | JN0-211 | Jan 09, 2023 |
| Microsoft.98-375.Pass4sure.v2023-01-08.62q.vce | 98-375 | Jan 08, 2023 |
| Isaca.CISA.Examsnap.v2023-01-08.1975q.vce | CISA | Jan 08, 2023 |
| CompTIA.CV0-003.Test-king.v2023-01-08.44q.vce | CV0-003 | Jan 08, 2023 |
| Microsoft.MS-600.Train4sure.v2023-01-07.47q.vce | MS-600 | Jan 07, 2023 |
| Network Appliance.NS0-175.Braindumps.v2023-01-07.27q.vce | NS0-175 | Jan 07, 2023 |
| CompTIA.PK0-004.Braindumps.v2023-01-07.334q.vce | PK0-004 | Jan 07, 2023 |
| Oracle.1z0-1084-21.Prep4sure.v2023-01-06.24q.vce | 1z0-1084-21 | Jan 06, 2023 |
| ECCouncil.312-50v11.Braindumps.v2023-01-06.175q.vce | 312-50v11 | Jan 06, 2023 |
| Microsoft.AZ-500.Braindumps.v2023-01-06.145q.vce | AZ-500 | Jan 06, 2023 |
| Microsoft.AZ-700.Selftestengine.v2023-01-06.29q.vce | AZ-700 | Jan 06, 2023 |
| IAPP.CIPP-US.Certbolt.v2023-01-06.86q.vce | CIPP-US | Jan 06, 2023 |
| Juniper.JN0-1302.Certbolt.v2023-01-06.28q.vce | JN0-1302 | Jan 06, 2023 |
| Microsoft.PL-200.Real-exams.v2023-01-06.56q.vce | PL-200 | Jan 06, 2023 |
| | | |
| --- | --- | --- |
| Microsoft.SC-200.Braindumps.v2023-01-06.49q.vce | SC-200 | Jan 06, 2023 |
| CompTIA.220-1001.Certkiller.v2023-01-05.267q.vce | 220-1001 | Jan 05, 2023 |
| Salesforce.Certified-Platform-Developer-II.Actualtests.v2023-01-05.156q.vce | Certified Platform Developer II | Jan 05, 2023 |
| Dell.DES-4421.Actualtests.v2023-01-05.28q.vce | DES-4421 | Jan 05, 2023 |
| Microsoft.MB-300.Certbolt.v2023-01-05.128q.vce | MB-300 | Jan 05, 2023 |
| Network Appliance.NS0-003.Test-king.v2023-01-05.24q.vce | NS0-003 | Jan 05, 2023 |
| Salesforce.Certified-Platform-App-Builder.Test-king.v2023-01-03.246q.vce | Certified Platform App Builder | Jan 03, 2023 |
| SAP.E-HANAAW-17.Examscollection.v2023-01-03.16q.vce | E_HANAAW_17 | Jan 03, 2023 |
| Microsoft.MS-100.Selftestengine.v2023-01-03.176q.vce | MS-100 | Jan 03, 2023 |
| Microsoft.MS-203.Pass4sure.v2023-01-03.103q.vce | MS-203 | Jan 03, 2023 |
| Microsoft.MS-900.Certbolt.v2023-01-03.120q.vce | MS-900 | Jan 03, 2023 |
| Fortinet.NSE4-FGT-6-4.Pass4sure.v2023-01-03.59q.vce | NSE4_FGT-6.4 | Jan 03, 2023 |
| Microsoft.SC-300.Passcertification.v2023-01-03.48q.vce | SC-300 | Jan 03, 2023 |
| Amazon.AWS-Certified-Cloud-Practitioner.Testkings.v2023-01-02.427q.vce | AWS Certified Cloud Practitioner | Jan 02, 2023 |
| Amazon.AWS-Certified-SysOps-Administrator-Associate.Passguide.v2023-01-02.28q.vce | AWS Certified SysOps Administrator - Associate | Jan 02, 2023 |
| CompTIA.CAS-004.Test-king.v2023-01-02.60q.vce | CAS-004 | Jan 02, 2023 |
| CompTIA.FC0-U61.Actualtests.v2023-01-02.96q.vce | FC0-U61 | Jan 02, 2023 |
| Fortinet.NSE6-FWF-6-4.Selftestengine.v2023-01-02.12q.vce | NSE6_FWF-6.4 | Jan 02, 2023 |
| Palo Alto Networks.PSE-Strata.Certkiller.v2023-01-02.26q.vce | PSE Strata | Jan 02, 2023 |
| Microsoft.98-366.Testking.v2023-01-01.114q.vce | 98-366 | Jan 01, 2023 |
| | | |
| --- | --- | --- |
| Microsoft.MS-700.Testking.v2023-01-01.84q.vce | MS-700 | Jan 01, 2023 |
| Checkpoint.156-315-80.Passcertification.v2022-12-31.275q.vce | 156-315.80 | Dec 31, 2022 |
| Nokia.4A0-100.Prep4sure.v2022-12-31.208q.vce | 4A0-100 | Dec 31, 2022 |
| Microsoft.AZ-104.Testkings.v2022-12-31.153q.vce | AZ-104 | Dec 31, 2022 |
| Microsoft.AZ-140.Test4prep.v2022-12-31.38q.vce | AZ-140 | Dec 31, 2022 |
| ITIL.ITILFND-V4.Certkey.v2022-12-31.144q.vce | ITILFND V4 | Dec 31, 2022 |
| Mulesoft.MCD-Level-1.Passcertification.v2022-12-31.59q.vce | MCD - Level 1 | Dec 31, 2022 |
| Microsoft.MD-100.Passguide.v2022-12-31.145q.vce | MD-100 | Dec 31, 2022 |
| IIBA.CBAP.Braindumps.v2022-12-30.286q.vce | CBAP | Dec 30, 2022 |
| ServiceNow.CIS-SAM.Testking.v2022-12-30.47q.vce | CIS-SAM | Dec 30, 2022 |
| Microsoft.MS-500.Selftesttraining.v2022-12-30.110q.vce | MS-500 | Dec 30, 2022 |
| Microsoft.PL-400.Testkings.v2022-12-30.76q.vce | PL-400 | Dec 30, 2022 |
| Google.Professional-Cloud-DevOps-Engineer.Examcollection.v2022-12-30.28q.vce | Professional Cloud DevOps Engineer | Dec 30, 2022 |
| Microsoft.SC-900.Certkiller.v2022-12-30.28q.vce | SC-900 | Dec 30, 2022 |
| Microsoft.98-349.Braindumps.v2022-12-29.132q.vce | 98-349 | Dec 29, 2022 |
| PMI.CAPM.Actualtests.v2022-12-29.688q.vce | CAPM | Dec 29, 2022 |
| Juniper.JN0-412.Pass4sure.v2022-12-29.34q.vce | JN0-412 | Dec 29, 2022 |
| Microsoft.MB-340.Prep4sure.v2022-12-29.26q.vce | MB-340 | Dec 29, 2022 |
| Splunk.SPLK-3001.Testking.v2022-12-29.45q.vce | SPLK-3001 | Dec 29, 2022 |
| NetSuite.SuiteFoundation-Certification-Exam.Examlabs.v2022-12-29.27q.vce | SuiteFoundation Certification Exam | Dec 29, 2022 |